Unlock profitable growth on Facebook and Instagram.
We take an ROI-first approach and manage millions per year in performance ad spend. Few channels consistently drive positive ROI – Facebook and Instagram can and do.
We leverage a combination of data analytics to build a full-funnel, revenue-generating advertising strategy that optimizes the media buy, creative, and on-site experience.
The Fox Digital Difference
Fox Digital is your #1 Facebook Ad Agency.
As a Meta Business Partner, we have a deep connection with and understanding of the platform. It's the largest part of our business – 90% of our clients count Facebook among their services.
1. Audit and Analysis
2. Creative Testing
3. Audience Targeting 
4. Optimization
5. Scale
Lift In Facebook Ads Revenue
Decrease In Customer Acquisition Cost
Nutraceuticals brand came to us with ambitious goals to scale their e-commerce business, to increase brand awareness with trackable sales increases, and to create recurring revenue by converting one-time purchasers into lifetime subscribers.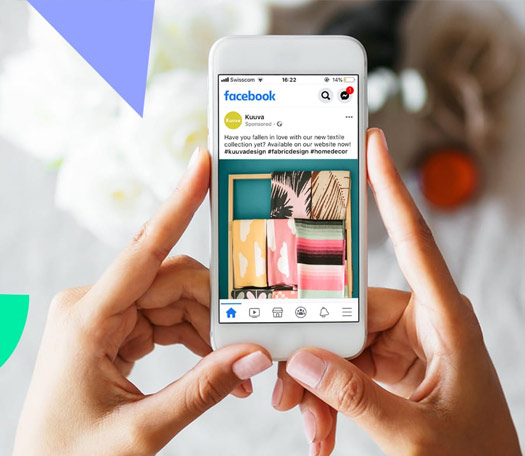 To grow the Nutraceuticals brand and increase lifetime value in a hyper saturated vertical, we focused on educating consumers about the differences between nutraceuticals brands. Data shows that customers are more likely to purchase and subscribe if they're first educated on the benefits of the product.
We utilized Google, Facebook, and Email to promote nutraceutical educational content and varied our communication on each platform, knowing that customers who regularly see the same campaign messaging end up tuning it out.
On Facebook, we ran ads that highlighted the product along with multiple value props. The creatives varied from comparison ads to ads showcasing giveback and sustainability initiatives. We took a full funnel approach by breaking our messaging out by funnel and the actions someone took. Breaking out messaging by funnel ensured viewers were not overwhelmed with too much educational information in one ad. Through extensive customer research and testing, we were able to tailor our creatives and copy to specific personas and targets, which allowed us to limit inefficient spending and hone in on higher valued customers.
Increase in Overall Revenue
Increase in New Subscriptions
Increase in New Customer Acquisition
Ads that run exclusively through Facebook's advertising platform which includes Facebook, Instagram, and Whatsapp.  These Ads come in a variety of formats—single image, video, slideshows, and more—and can be targeted to extremely specific audiences.
Almost 96% of social media marketers believe that of all the platforms out there, Facebook provides the best return on investment (ROI). And there's a good reason for that:
"Facebook" is the most popular search term worldwide
The platform has 2.4 billion users and more than 7 million advertisers
People use it for an average of 35 minutes a day
68% of adults in the US have an active account
With a reach like that, you'd think that marketing on Facebook would be expensive, but it isn't. Not only does Facebook let you specify a maximum spend, it also charges you less to reach the same number of people that you'd reach on another platform.
Over 3 million businesses advertise on Facebook. In this article, we're going to show you why they choose to advertise on that platform and why you should partner with us at FoxDigital to get your Facebook marketing done in the most effective way possible.
How Are Facebook Ads Generated?
Oftentimes, Facebook Ads are created as a result of fusing a company with a recent action of that user's Facebook friend.
For example, if one of your Facebook friends "likes" the official page for Alo Yoga on Facebook, you may see that activity on your News Feed, along with a Alo Yoga ad encouraging you to do the same – or encouraging you to purchase the newest products from Alo store.
Users' activity with Facebook Ads will only be shared with their confirmed friends. As with any social media platform, the privacy settings a user chooses to make on their account will apply to what Facebook shares.
Who Should Advertise on Facebook?
Paid Social Display Ads should be part of any business's digital marketing strategy. It is a key way to share content, build links, and drive engagement. However, you are missing out on the full potential of social media if you are only using it for organic traffic.
There's really no reason not to advertise on Facebook if you have a business. Facebook's user base is massive – so no matter what type of consumer audience you have, working with Facebook to promote your products or services is bound to gain you sales.
The real question is, how many users would you like to reach per day? While the cost does increase depending on the number of people you're interested in advertising to, it is a surprisingly fair price compared to most, if not all, other channels.
Let's share an example. For 30 cents a day, Facebook will reach out to 1000 people for you. Some small businesses might only be able to afford to spend about 100 dollars a month on Facebook Ads – but this would still allow for reaching 80,000 people every month!
Most companies will find that they can afford much more than 100 dollars per month. This is why the concept of advertising your business on Facebook shouldn't take much debating at all. Don't waste time; give it a try and watch as your consumer base grows instantly!
If you don't feel as though your company is highly trained in digital marketing and online advertising, you're not alone. You're absolutely going to want (and probably need) an ad agency in order to achieve the results you want.
Luckily, our team full of experts in online marketing at Fox Digital are eager to help.
Working with an agency like Fox Digital can help more than you would expect. Why? Full-funnel ad agencies are the perfect "middle man" to have when trying to achieve the best marketing results possible.
Ad agencies are on the pulse. They are constantly researching and discovering the most efficient ways to pull people in and get them clicking. More clicking means more buying!
Fox Digital Agency will help you with targeted media buying. They will analyze your company's data in every category in order to find out where you sell best, how you sell best, and what needs to get done to sell more.
Every business is different, and experienced ad agencies such as Fox Digital know that. They value quality over quantity, which is crucial for true growth. We will assist in implementing the most productive and innovative methods meant for you and your particular business.
When To Consider a Facebook Ad Agency?
As mentioned above, there's no reason not to consider a Facebook Ad agency – but if you're still on the fence about working with one, we have some information to help you decide.
Facebook Ad agencies are all about emphasizing the details that make your company shine. They are determined to find what makes your company different from the rest and then help you profit based on those specifics.
How To Find The Best Ad Agency?
Agencies like Fox Digital are determined to make your business blossom at an impressive rate. Our award-winning team of experts is able to provide a broad range of skill sets such as brand development, data strategy, media innovation, digital proficiency, and creative content-making.
If you're wondering whether Fox Digital is a good fit for your company, let us remind you that we work with all types of businesses that have a nice focus. Some of these include:
Retail
E-commerce
Technology
Sports
Fox Digital is dedicated to being a diverse and inclusive workforce for all of our employees. We also feel it's important to make a difference however you can. We pride ourselves on having the most skillful experts on board, we understand that no matter who you are, there is always more to learn. It is for this reason that we are consistently giving our employees educational opportunities within the industry. If you're looking for advice on where to start, we recommend you outsource digital marketing to the Fox Digital team. 
What Makes Facebook Marketing So Helpful?
We pair directly with Facebook representatives in order to get you the latest and greatest strategies. We have learned with Facebook that in this digital age, video ads tend to produce better results than just about anything else.
Figuring out the "why" behind your business is key.  FoxDigital is able to help you define this. Subscription services in particular focus on their "why." We can develop the best messaging for you to send to your customers so that they feel special for being a part of your subscription service or mailing list.
A great draw for using Facebook is their ownership of Instagram. In the second quarter of 2020, Facebook reported having 2.7 billion users while Instagram reported having 1 billion.
Instagram Stories and Reels, a feature in which users are able to share photo and video content that lasts 24 hours on their profile.
How Can I Get Started with Fox Digital and Their Facebook Marketing?
It's quite easy to get in touch with us.
You will find the contact us page in the upper right corner of your screen, you will see our "Contact Us". Clicking on this tab will bring you to the brief form we ask that you fill out in order to get connected with us.
Once you've filled out a little bit about yourself and your business, we'll get back to you shortly after. Before you know it, Fox Digital will be helping your company climb the ladder in terms of exposure/visibility, and working alongside Facebook to boost your well-deserved sales. Fox Digital is top outsource digital marketing agency.