Exceed your revenue goals with Google Ads.
Fox Digital helps clients advertise on Google successfully with a complete full-funnel strategy that works. We go beyond just search, with expertise in every Google Ad product, including Discovery, Display, Shopping Ads, Smart Search Ads, Performance Max Ads, Responsive Search Ads, Dynamic Search Ads, Video Ads, and more.
Search engines provide the highest quality visitors and the highest return on investment over the long-term. Our goal is to make sure our clients are always well-positioned in search results. 
As a Google Partner, our SEM services covers all aspects of Google Ads & Bing Ads including Search Network, Display Network and YouTube, Shopping Ads (PLAs), and Remarketing to help lift conversions and lower overall customer acquisition costs. 
The Fox Digital Difference
Unlike most agencies, we take a full-funnel audience approach, leveraging custom intent/affinity audiences, as well as in-market and detailed demographics.
We emphasize an omnichannel creative strategy for YouTube to create cohesive messaging that resonates with consumers.
1. Audit and Analysis
2. Creative Testing
3. Audience Targeting 
4. Optimization
5. Scale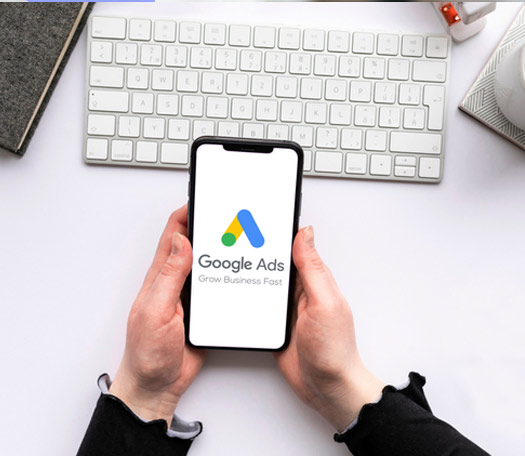 Fox Digital was tasked with driving more foot traffic to 20+ stores around the country for a global retail chain. We looked to drive down cost per engagement while increasing the client's influence. Google Local Search drove localize awareness while Google Shopping Ads drove conversions.
We became more segmented in our targeting, allowing for more control of audiences and keyword categories that ultimately led to scale.
In-Store Traffic Increase
Local Per Store Calls Increase
Google Ads is a pay-per-click platform focused on providing advertisers the power to share their ads as results on Google Search pages. These results are produced based on strategically used keywords. 
This overall service can assist companies in promoting their brand, their content, their website, and more. There are five different Google Ads campaign types: Google Search, Google Shopping, YouTube Video Advertising, Discovery Advertising, and Display Advertising. 
The below breaks down how Google Ads operates, why you should trust an experienced ad agency to assist you, and how to get started.
In order to get started with Google Ads, you're going to have to solidify your goals first. 
Some of the more popular goals businesses tend to have are receiving more phone calls to their business, increasing the number of visits at their store, and bringing more people to their website online. 
This goal is best for businesses that regularly book appointments for their services like salons and medical practices, regularly schedule individual jobs like a mechanic, or regularly close big deals like a realtor's office. 
This goal is best for a physical location that thrives primarily on foot traffic. If you are a restaurant or a crafty establishment like a paint-and-sip, increasing your foot traffic is a great goal to have
If most (or all) of the sales you make are from online orders, increasing website traffic is clearly the option for you. This method is great for online shopping, having shoppers sign up for your mailing list so they can be sent special deals, or even for your customers to fill out forms with titles like "Which One of Our Products is Best for You?"
Next on the docket is where you'd like to advertise. With Google Ads, it is just as easy to market your business globally as it is to market your business locally. You have the power to gauge exactly where you lean on this spectrum of ad reach.
It's important to decide where to navigate your ads because your ads will only produce impressive results if they are being exposed to the right audience. 
If most of your customers are from the town in which your business resides, it's best you stay local. If you do tend to get some international sales, push for more by advertising globally with the help of Google Ads!
 Creating your message. The easiest part about creating your message is there are many different ad formats available. This ensures your company stands out and has its own personal style on the internet. Google Ads will work with you to understand your marketing goals and pick formats accordingly.  
Based on their high-quality database and research, Google Ads will estimate for you how many clicks, calls, or store visits you're expected to reach that month, given the budget cap you've chosen. 
An extra benefit: there's no minimum budget for the budget cap, and there's no commitment either. Most companies see an uptick in results after just one month of using Google Ads!
The final step in the process is, you guessed it, going live with your brand new ads! When you've finally gone live, any Google searches that include a keyword relating to your business will direct users right to you. 
Working with Google means you'll receive a lot of extra exposure due to their many partner sites and extensions. By investing in Google Ads services, your business could be advertised on Google Maps, Google News, etc. This additional exposure can help your customers find useful information such as walking and/or driving directions to your store.
Why Should You Use an Ad Agency to Help With Google Ads?
Fox Digital is an amazing resource for businesses that want to magnify their marketing strategies and improve their sales. Our best feature is our close relationships with the biggest platforms you can name.
We are a Google Premier Partner! This means we do Google campaign management by using a scientific lens so that all your bidding and budgeting correlates as best it can with your ROAS (return on ad spend).
We specialize in performance-driven work and have many e-commerce clients. Fox Digital will collaborate with you to ensure that brand campaigns are strong enough to protect you from competing companies.
There are different types of brand campaigns Fox Digital can help establish for you on Google. Brand campaigns, non-branded campaigns, shopping, display.
Fox Digital experts will also assist you in running a display remarketing campaign. We prefer leveraging display for retention. This means targeting segmented audiences, not just every person using the internet that day.
Examples of informative categories that provide us with the best data to analyze include the amount of time people spend on your site, the level of engagement and consumer interaction you're receiving, and the percentage of returning customers you're maintaining.
Along with YouTube, FoxDigital is able to help you create Bumper Ads. Bumper Ads are enjoyable for both the consumer and the advertiser.
This is because the consumer appreciates the concise form, while the advertiser benefits from the high mobile outreach they perform. They're short ads, but they aren't skippable!
We are experienced in product level bidding, and we are able to improve your return on ad spend by identifying which of your brands are most profitable, as well as which of your products are sold the most often.
If you haven't thought of this already, working with Fox Digital will save you money. How? Think about how much your company would have to invest in additional employees that really know what they're doing when it comes to Google Ads.
When Should You Consider A Google Ads Agency?
The time is now! Nothing is more crucial for business owners than having the best online presence they possibly can. Unless you'd like to stay a mediocre company with mediocre sales and just barely get by, there is no time to waste!
Too many business owners aren't seeing the profit they'd like, and they don't know why. If this sounds like you, you are the perfect candidate for a Fox Digital partnership. We can find solutions to get you where you'd like to be, and then turn those solutions into realities! 
We let the data, research, and test analytics guide our process to ensure optimal and measurable results for your business. 
At the start of our strategic partnership, we create detailed quarterly plans so you know exactly what to expect from us.
Each account is assigned a marketing expert to run weekly strategy meetings and discuss actionable recommendations and improvements to determine the best use of resources
How Can I Get The Ball Rolling?
Learn more about how the "Fox Smart Approach" has helped Paid Search drive as many conversions as any other channel.
If you're interested in working with a skillful ad agency, and you want to make use of Google Ads, don't hesitate to schedule a call.
This initial interaction does not require any type of commitment. We are here to help and happy to do so! If, for any reason at all, you still have reservations, feel free to take a look at our case study.